Alumni-Jobs
Here you will find job advertisements which are of special interest to you as an alumna or alumnus of KIT with several years of professional experience
.
If you want to advertise especially for KIT alumni, you can purchase a so-called
Alumni ad
under the menu item "
Buy services
". In addition to the premium advertisement you will have the possibility to place your job offer in the
Alumni Newsletter
The KIT Alumni Newsletter is published every two months. A maximum of 3 job offers are published per newsletter. Your advertisement will be included in the next possible newsletter after booking (booking at least one week before publication). If you have further questions, please contact our hotline.
You can find further information on our types of advertisements under the menu item "Advertisements and prices".
Bauingenieur für die Holzbauplanung (m/w/d) in Karlsruhe
Entry from the 18.07.2022
Position number 110955
Job vacancy: From now on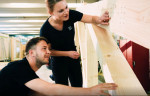 Description
Individuelle Lösungen für Tragwerke anspruchsvoller Projekte sind unsere Domäne. An unseren vier Standorten entwickeln wir diese gemeinsam im Team, zusammen mit den besten Architekten*innen. In Deutschland, Österreich und der Schweiz. Meist in Holz - ein entscheidender Beitrag für die Zukunft. Oft hybrid - Baustoffe sinnvoll kombiniert. Und immer innovativ.
Deine Aufgaben
Du bist im Team mitverantwortlich für die Konstruktion und Berechnung neuer Holzbauprojekte.
Du entwickelst selbstständig Detailkonstruktionen und lässt Deine innovativen Ideen mit einfließen.
Du bearbeitest einzelne Projektphasen in interdisziplinären Teams.
Du begleitest die Bauausführung und führst Ingenieurtechnische Kontrollen durch.
Du wirst im Laufe der Zeit eigenständig Projekte bearbeiten.
Dein Profil
Du hast ein abgeschlossenes Bauingenieurstudium oder eine vergleichbare Ausbildung absolviert.
Du bist bereit, gemeinsam mit Deinen neuen Kollegen*innen, die Grenzen im Holzbau auszuloten.
Du lernst gerne von erfahrenen Mitarbeitenden und bist an Weiterbildung interessiert.
Unser Angebot
Vereinbarung von Familie und Beruf durch flexible Arbeitszeiten, einer Anstellung von 80-100 % und ggf. Homeoffice.
Ein ordentliches Gehalt und ergänzendes Prämiensystem.
Fachliche Weiterbildungen bis hin zu berufsbegleitenden Studien, deren Kosten wir übernehmen.
Eine unbefristete Anstellung an allen Standorten.
Ein/e erfahrene/r Mitarbeiter*in steht Dir immer zur Seite.
Zentrale Bürolage mit sehr guter Anbindung an das Öffentliche Verkehrsnetz.
Ein- und mehrtägige Teamexkursionen.
Job type/category
Field of study preferred

Engineering sciences
Civil engineering
Favored career stage

Graduate/Beginner
Job experience > 2 years
Location/region

Karlsruhe city, Karlsruhe region
Sector

Engineering, development & construction design
Industry branch

Building trade & building materials trade
Architecture & design
Other industries
Other services
Language at workplace
Type of company
Contact
Mr. Gordian Kley
merz kley partner
Tel: +43 5572 36031-16
E-Mail: Please log in to read the stated e-mail address

Company address
merz kley partner
Weltzienstraße 6a
76135 Karlsruhe
Germany
Telefon: +43 5572 36031-16
www.mkp-ing.com
Top Jobs
Landesbank Baden-Württemberg

Germany

Baden-Württemberg

Karlsruhe city, Karlsruhe region

Dr. Ing. h.c. F. Porsche Aktiengesellschaft

Baden-Württemberg

Germany

Dr. Ing. h.c. F. Porsche Aktiengesellschaft

Baden-Württemberg

Landesbank Baden-Württemberg

Germany

International excluding Germany

Karlsruhe city, Karlsruhe region

Dr. Ing. h.c. F. Porsche Aktiengesellschaft

Baden-Württemberg

Landesbank Baden-Württemberg

Germany

Karlsruhe city, Karlsruhe region

Baden-Württemberg

Karlsruhe city, Karlsruhe region

Physik Instrumente (PI) GmbH & Co. KG

Karlsruhe city, Karlsruhe region

Baden-Württemberg

Baden-Württemberg

Dr. Ing. h.c. F. Porsche Aktiengesellschaft

Baden-Württemberg

Rheinland-Pfalz

Baden-Württemberg

Karlsruhe city, Karlsruhe region

Germany

Rheinland-Pfalz

Karlsruhe city, Karlsruhe region

Nordrhein-Westfalen

Karlsruhe city, Karlsruhe region

Baden-Württemberg

Visier Solutions GmbH c/o Everyworks Berlin Hauptbahnhof

Berlin

Baden-Württemberg

Baden-Württemberg

Karlsruhe city, Karlsruhe region

Baden-Württemberg

Karlsruhe city, Karlsruhe region

Rheinland-Pfalz

Germany

Karlsruhe city, Karlsruhe region

Baden-Württemberg

Karlsruhe city, Karlsruhe region

Karlsruhe city, Karlsruhe region

Germany

Karlsruhe city, Karlsruhe region

Karlsruhe city, Karlsruhe region

Dr. Ing. h.c. F. Porsche Aktiengesellschaft

Baden-Württemberg

Physik Instrumente (PI) GmbH & Co. KG

Karlsruhe city, Karlsruhe region

Baden-Württemberg

Bayern

Karlsruhe city, Karlsruhe region

Baden-Württemberg

Baden-Württemberg

Germany

Baden-Württemberg

Baden-Württemberg

Baden-Württemberg

Landesbank Baden-Württemberg

Germany

International excluding Germany

Landesbank Baden-Württemberg

Germany

Karlsruhe city, Karlsruhe region

Baden-Württemberg

Karlsruhe city, Karlsruhe region

Baden-Württemberg

International excluding Germany
Events
Institut Entwerfen und Bautechnik

LOBSTER, St. Barbara Weg 5, 76187 Karlsr

Strategy&

München

Thu 24.11.2022