Entry from the 04.02.2021
Position number 97942
Operations - Early Career Leadership Program
Stelle ist zu besetzen ab: 01.07.2021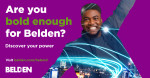 Beschreibung
Discover your power as Belden's new member of our
Operations - Early Career Leadership Program
We are looking for talented, driven and passionate people who aspire to lead others in the Operations & Supply Chain arena and are excited to join an early career program that offers robust hands-on development over a three year duration.
This is what excites you every day
• Being an active member of our team from day one
• Working on a role rotation basis and having the opportunity to get exposure to our different brands, businesses and technologies. Besides different roles in your base country you will have the chance to work on projects in other EMEA countries.
• Connecting with peers from other Belden functional leadership programs as you participate in a highly interactive and action based learning curriculum.
• Building your knowledge of our core business systems, developing your business acumen, and creating a strong foundation for your operations and leadership skills.
• Receiving individualized feedback throughout the program along with the mentoring support of a leader in Belden
This is you
• You are passionate, enthusiastic and ready to take on a challenge
• You hold a Master degree in Manufacturing, Engineering, Electrical Engineering, Industrial Engineering, Supply Chain or Logistics or similar combined with the aspiration to build a career in a management role
• You demonstrate leadership aptitude with the desire to build a career in Operations
• You made at least two relevant internships, or have less than one year working experience
• You are fluent in English and have a basic level of Dutch and/or German, further languages are advantageous
• You are willing to relocate and are mobile
This is what you're looking for
• Work in an empowering environment that rewards performance and ambition.
• Being a part of a 'glocal' team of all levels of expertise.
• A dynamic workplace that boosts responsibility, mutual trust and flexibility from day one.
• A culture of honest feedback.
• A working environment where everyone inspires each other.
Be bold. Be Belden
Belden is a global leader in signal transmission and security solutions for enterprise and industrial markets. Day in, day out our customers count on highly reliable and mission-critical solutions in the most demanding conditions. The bar is set high.
Learn more about Belden: www.belden.com/bebold
Job type/category
Field of study preferred

Engineering sciences
Electrical engineering & information technologies
Mechanical engineering
Mechatronics & information technologies
Mechanical Engineering
Economic & law sciences
Business management
Favored career stage
Location/region

International excluding Germany
Sector
Industry branch

Other manufacturing industries
Other industries
IT & Internet
Electrical engineering & optics
Language at workplace
Type of company
Contact person
Mrs. / Ms. Andrea Haug
Belden Deutschland GmbH
Stuttgarter Str. 45-51
72654 Neckartenzlingen
Germany
Tel: 07127 / 14-1645
E-Mail: Please log in to read the stated e-mail address
Address

Belden Deutschland GmbH
Stuttgarter Str. 45-51
72654 Neckartenzlingen
Germany
Telefon: 07127 / 14-1645
www.beldensolutions.com