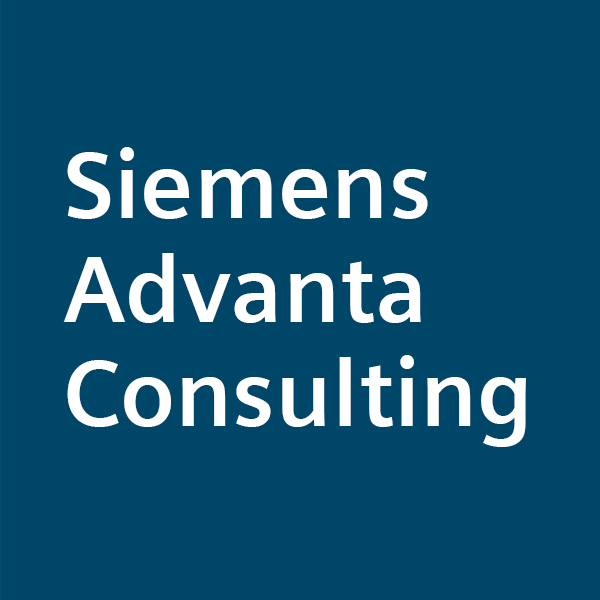 Siemens Advanta Consulting
Otto-Hahn-Ring 6
81739 München
Company size: Corporation
Branch: Business consultancy, auditing & law
Gesuchte Studiengänge: Business Mathematics, Business engineering, Business management, Electrical engineering & information technologies, Electronic system engineering (study program obsolete), Energy technologies (study program obsolete), Energy technologies (study program obsolete), Informatics, Information Engineering, Mathematics, Mathematics in Technology, Mechanical Engineering, Physics, Service Management and Engineering (study program obsolete), Water science engineering
Contact:
Mrs. / Ms. Theresa Haberthaler
Employer Branding
0
Siemens Advanta Consulting is the global management consultancy for one of the world's most innovative engineering and technology companies. We navigate companies through their unique digitalization journey – from strategy to operations. Our mission is to transform our clients' future and to develop the talent of today into the business leaders and experts of tomorrow.

Founded in 1996 as the first inhouse consultancy in Europe, we have been known for many years as Siemens Management Consulting (SMC). We have significantly shaped the success story of Siemens, being the consulting partner of choice for its own digital transformation.

By becoming part of the powerhouse Siemens Advanta, we expand our consulting services beyond Siemens to focus today on full end-to-end digitalization services. Siemens Advanta Consulting is part of the powerhouse Siemens Advanta, which was founded 2019. Siemens Advanta is part of the Siemens AG and combines consulting capabilities with the expertise of more than 7000 solution engineers and developers. This allows a unique service portfolio ranging from strategy and operations consulting to design & prototyping, platform solutions and data services, software and application development up to implementation and operations.
A world of opportunities. With ten offices in China, Germany, India, the UAE and the USA and a global client base, you can work in almost every country in the world at Siemens Advanta Consulting. You'll be placed within interdisciplinary teams, working flexibly to create international solutions to some of today's most complex challenges.

Our professional development programs are designed to hone your talents and equip you with the skills you need to grow personally and professionally. What's more, we actively encourage your development outside of work, so if you need to take time off to follow academic, private, or social initiatives, we offer a range of leave programs. From personalized training programs to personal coaches, we build your future.
Where will your expertise take you?
What is special about us?
We enable our clients to build their digital future. Our 500 future-focused consultants draw on time-tested expertise and experience to help them refine their vision, set clear priorities and choose the right strategy to lead their business to success in this digital era. With our holistic consulting approach, we work alongside with our clients from strategy development to implementation.

Digital transformation demands an interconnected approach, bringing together business & portfolio, people & organizations, operations & processes and digital technologies. Our experience is grown from our own and Siemens' digitalization journey as well as having served many other technology companies on their transformation path. This is how we create long-lasting value for businesses.
We recruit talented people and provide them with an environment in which they can develop their expertise and grow into leadership or expert positions – through challenging assignments, customized training and ongoing coaching. The learning curve at Siemens Advanta Consulting is steep – that's how we fast-track top talent. At Siemens Advanta Consulting you'll manage innovative projects that positively impact the way we live. This is how we prepare you for a successful future in a global company.

Do you have an excellent academic track record from a university? Have you already gained extensive practical experience here and abroad? Do you have an entrepreneurial mindset, are ambitious and think analytically? Do you thrive on challenging the status quo and creating sustainable value? Can you communicate across hierarchies and forge trust-based, lasting relationships with your colleagues and clients?
Then you're the person we're looking for! Project your future with us.
Link to further application information
Currently the following ads of Siemens Advanta Consulting are offered in the job market:
2 Job ads
Back